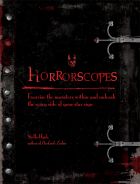 Everyone knows their astrological sign, but how many of us know what monsters lurk within the zodiac? You may have your suspicions: the glowing red eyes after a night on the town, an irresistible attraction to a white neck, a few lost days every month, a feeling of supernatural superiority, but what you probably don't know is that your sun sign influences your evil incarnation of choice.
Let 
Horrorscopes
 explain why you are what you are, how your ruling planet forces you into evil ways, how your rising sign can mask your true monstrous reality, what you would do on a really bad day, and how you can fight your evil twin and exorcise your monster within—that is, if you really want to.
Bestselling author Stella Hyde reveals the dark side of the 12 sun signs, from Aries the Fire Demon to Pisces the Sea Wolf. For each sign the Jekyll and Hyde traits are revealed along with aspects like "Your Deadliest Sin" and how your monstrous side manifests itself at work, at home and at play.
Horrorscopes
 is something new under the astrology sun—fun and a bit scary!