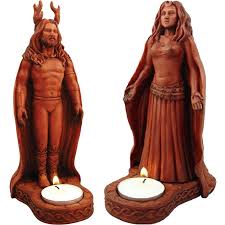 The Horned God is the spirit of the green forest, the power of the sun and the Lord of the Wilderness. He is the divine masculine in his many forms, the joyous and laughing God of growth and the woods. 

The Moon Goddess is the spirit of the celestial forces, the power of the moon and the Lady of the Stars.  She is the divine feminine in her many forms, the Goddess of magic, and the nurturing force of life.

Use these candle holders to summon their energy and honor their presence in your life.

Free Shipping!
He is 7 3/4" tall.
She is 6 1/2" tall.
This listing is for one of each statues and 6 white tea lights.