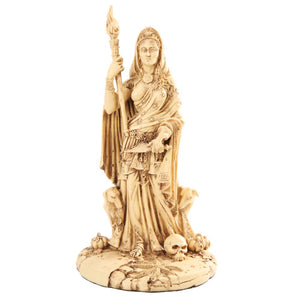 Hecate is a Greek goddess who is capable of both Good and Evil. She was often associated with witchcraft, magic, the moon and creatures of the night such as hell hounds and spirits. She is the guardian of the crossroads and her torches light the way. She's a protective goddess and is sometimes placed at doorways with the belief that she will protect people from evil and from the dead.
Product Size: 6" x 6" x 11 1/4"
Hand painted resin.
This listing is for one statue.